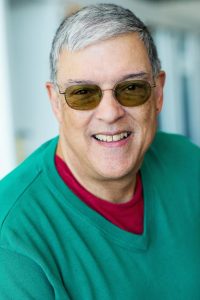 Welcome to my personal blog where I write mostly about Linux, other open source software, and my books.
I have been in the IT industry for over 50 years. I am an Open Source Software and GNU/Linux advocate, trainer, writer, and speaker. I have been working with Linux and Open Source Software for more than 25 years. I am a strong proponent of and evangelist for the "Linux Philosophy for System Administrators."
I worked at IBM for 21 years and, while working as a Course Development Representative in Boca Raton, FL, in 1981, I wrote the training course for the first IBM PC. I have taught RHCE classes for Red Hat and also worked at MCI Worldcom, Cisco, and the State of North Carolina. In most of the places I have worked since leaving IBM in 1995, I have taught classes on Linux ranging from Lunch'n'Learns to full five day courses. Helping others learn about Linux and open source software is one of my great pleasures.
I prefer to purchase the components and build my own computers from scratch to ensure that each new computer meets my exacting specifications. My primary workstation is an ASUS TUF X299 motherboard and an Intel i9 CPU with 16 cores (32 CPUs) and 64GB of RAM in a Cooler Master MasterFrame 700 case.
I have written articles for magazines including, Linux Magazine, Linux Journal. My article "Complete Kickstart," co-authored with a colleague at Cisco, was ranked 9th in the Linux Magazine Top Ten Best System Administration Articles list for 2008. I currently write prolifically for OpenSource.com and Enable SysAdmin.
I currently have four books published, "The Linux Philosophy for SysAdmins," and, "Using and Administering Linux: Zero to SysAdmin, a self-study training course in three volumes that was released in late 2019. I have a new book, "Linux for Small Business Owners: Using Free and Open Source Software to Power Your Dreams," with co-author Cyndi Bulka, yoga instructor, coach, and author, which will be available on July 3, 2022. All of my books are published by Apress.
I also have a web site dedicated to more technical information, http://www.linux-databook.info/. If you are looking for answers to technical questions about Linux, you are much more likely to find them there. If you don't find what you need, send me your questions to the email address below. I will respond with an answer if there is one and I can find it; I will also add that information to the DataBook web site so that others may use it as well.
I can be reached at LinuxGeek46@both.org, on Twitter @LinuxGeek46.