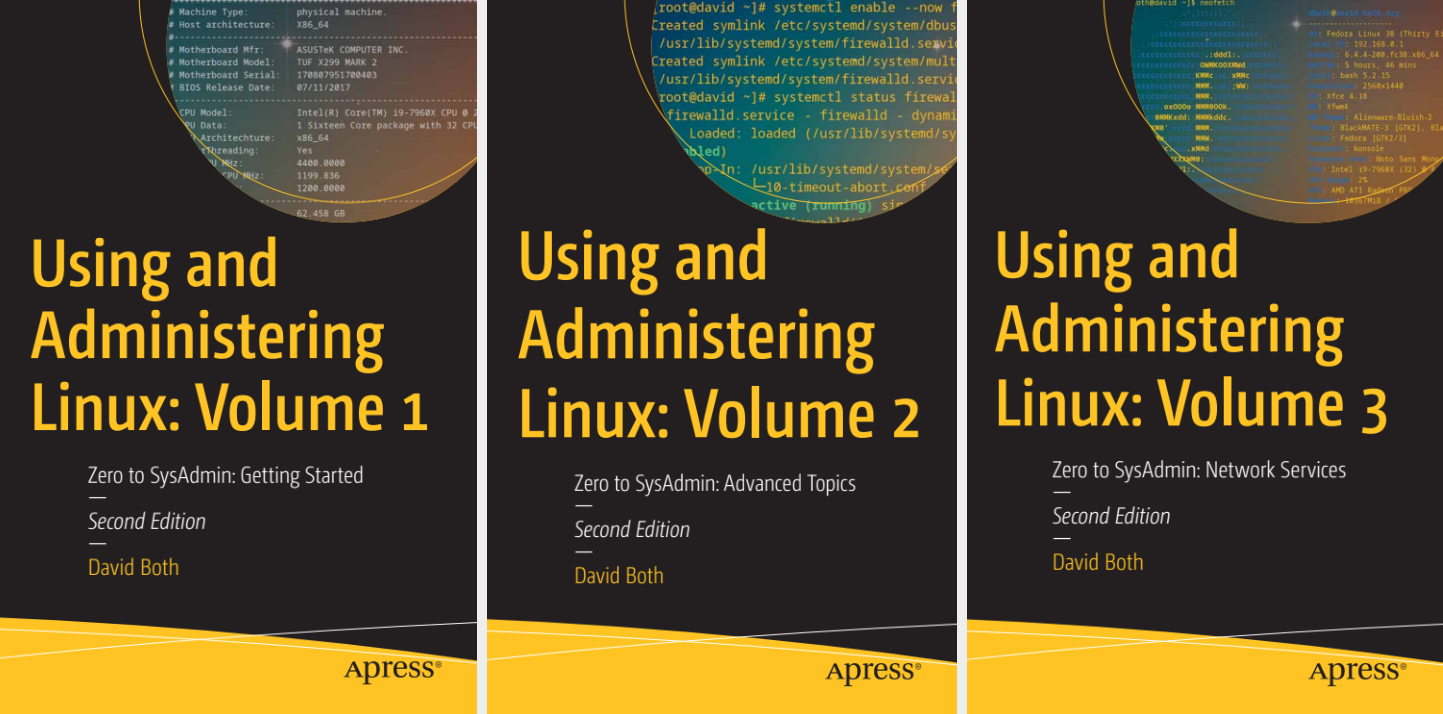 2nd Edition Updates Completed
I have completed the updates for the 2nd Edition of my Using and Administering Linux: Zero to SysAdmin series of books.
Release is scheduled for early Autumn.
In this new edition of my popular and highly rated series, you'll learn to be a Linux sysadmin and an expert user of the Linux operating system, even with no previous Linux experience. You will learn to manage complex systems with ease and equip yourself for a new career.
The 2nd edition of my 3-volume Linux training course has been updated to Fedora 37 and 38. I have added new chapters covering NetworkManager, systemd, and the BTRFS filesystem. All chapters have been completely updated to the most current versions of Fedora and I have corrected a number of typos.
This 2nd Edition has also been reorganized to provide a smoother and more logical flow. To emphasize this, all 57 chapters are now consecutively numbered. This makes referencing information in other chapters easier.
About this Course
This is a three-volume self-study course designed to take you from zero knowledge about using Linux to become a Linux System Administrator – SysAdmin. This course is for anyone who wants to be a Linux SysAdmin.
Here's an overview of all three volumes that comprise this self-study course.
Volume 1: Getting Started
In this first volume in this training course, you will learn about operating systems in general and Linux in particular and explores the Linux philosophy for SysAdmins in preparation for the rest of the course. This book provides you with the tools necessary for mastering user management; installing, updating, and deleting software; and using command line tools to do performance tuning and basic problem determination.
You'll begin by creating a virtual network and installing an instance of Fedora – a popular and powerful Linux distribution – on a Virtual Machine (VM) that can be used for all the experiments on an existing Windows or Linux computer. You'll then move on to the basics of using the Xfce GUI desktop and the many tools Linux provides for working on the command line including virtual consoles, various terminal emulators, Bash, and other shells.
Explore data streams and the Linux tools used to manipulate them, and learn about the Vim text editor, which is indispensable to advanced Linux users and system administrators, and be introduced to some other text editors. You'll also see how to install software updates and new software, learn additional terminal emulators, and some advanced shell skills. Examine the sequence of events that take place as the computer boots and Linux starts up, configure your shell to personalize it in ways that can seriously enhance your command line efficiency, and delve into files and filesystems.
Chapters
Introduction
Introduction to Operating Systems
Linux Philosophy for SysAdmins
Preparation
Installing Linux
Using the Xfce Desktop
Using the Linux Command Line
Core Utilities
Data Streams
Text Editors
Working as root
Installing and Updating Software
Tools for Problem Solving
Terminal Emulator Mania
Advanced Shell Topics
Linux Boot and Startup
Shell Configuration
Files, Directories, and Links
Filesystems.
Volume 2: Advanced Topics
This second volume builds upon what you have learned in the first and depends upon the virtual network and virtual machine created there.
You'll see how to manage and monitor running processes, discover the power of the special filesystems, monitor and tune the kernel while it is running – without a reboot. You'll then turn to regular expressions and the power that using them for pattern matching can bring to the command line, and learn to manage printers and printing from the command line and unlock the secrets of the hardware on which your Linux operating system is running.
Experiment with command line programming and how to automate various administrative tasks, networking, and the many services that are required in a Linux system. Use the logs and journals to look for clues to problems and confirmation that things are working correctly, and learn to enhance the security of your Linux systems and how to perform easy local and remote backups.
New for this edition:
This second edition has been fully updated to Fedora Linux 37 with expanded and revised content and figures as well brand-new chapters on the BTRFS file system, using Zram for swap, NetworkManager, automation with Ansible, and multiple chapters on systemd.
Chapters
Logical Volume Management
File Managers
Everything is a File
Managing Processes
Special Filesystems
Regular Expressions
Printing
Hardware Detection
Command Line Programming
Automation with Bash Scripts
Automation with Ansible
Time and Automation
Networking
Network Manager
The BTRFS Filesystem
systemd – Getting Started
Advanced systemd functions
systemd Finale
Dbus and UDEV
Traditional Logs
Managing Users
Managing the Firewall
Volume 3:
This third and final volume builds upon the skills you have learned so far in volumes 1&2 and will depend upon the virtual network and VMs created there.
You will start by reviewing the administration of Linux servers and install and configure various Linux server services such as DHCP, DNS, NTP, and SSH server that will be used to provide advanced network services. You'll then learn to install and configure servers such as BIND for name services, DHCP for network host configuration, and SSH for secure logins to remote hosts. Other topics covered include public/private keypairs to further enhance security, SendMail and IMAP and antispam protection for email, using Apache and WordPress to create and manage web sites, and mailing lists. It also explores file sharing with FTP, NFS, and SAMBA.
This volume also covers SELinux, and building RPMs to distribute automation scripts and programs, firewalls using firewalld, network routing, and using Chrony to manage time services.
All of these services are installed on a single server host over the course of the book and by the time you are finished you will have a single server that provides these services for your network.
New for this edition:
This second edition has been full updated to Fedora Linux 38 with expanded content and figures. The chapter on mailing lists has been updated to use the Sympa list manager, and the chapter on remote desktop access has been updated to account for the significant differences in TigerVNC services and its use of systemd.
Chapters
Server Preparation
Name Services
Routing and Firewalls
Remote Access with SSH
Security
Backup Everything – Frequently
Introducing Email
Advanced Email Topics
Combatting Spam
Apache Web Server
WordPress
Mailing Lists
Remote Desktop Access
Advanced Package Management
File Sharing
Where do I go from Here?